A tradition born in pre-colonial Philippines. In celebration of kinship, as the sun sets after a day of hard work, coconut nectar is distilled into Lambanog by coconut farmers, enjoyed as their voices echo in song. Today, the legend of the Philippine Lambanog that lives in Lakan is distilled in the traditional proof from 100% coconut nectar that ferments on its own, without the need for additives. Lakan Extra Premium Lambanog is pure and wonderfully natural.
Artful creation. Modern distillation.
Our Master Artisan uses practically all his human senses to scrutinize the product at every possible level in order to create this pure, clean and natural liquor. And because it takes tens of coconut trees and a meticulous process to make one bottle, this exceptional liquor can only be produced in limited quantities of peerless, exquisite quality. This artful creation is licensed by the Food and Drug Administration (FDA) of the Philippines and is produced using the latest advances in distillation technology.
Lakan, the true Filipino spirit, is now ready for the whole world to enjoy.
World-class distiller of liquor & spirits
Inspired by the centuries-old distilling of coconut nectar into liquor, Philippine Craft Distillers, Inc. has perfected the production of Lambanog using the latest advances in world-class distillation technology.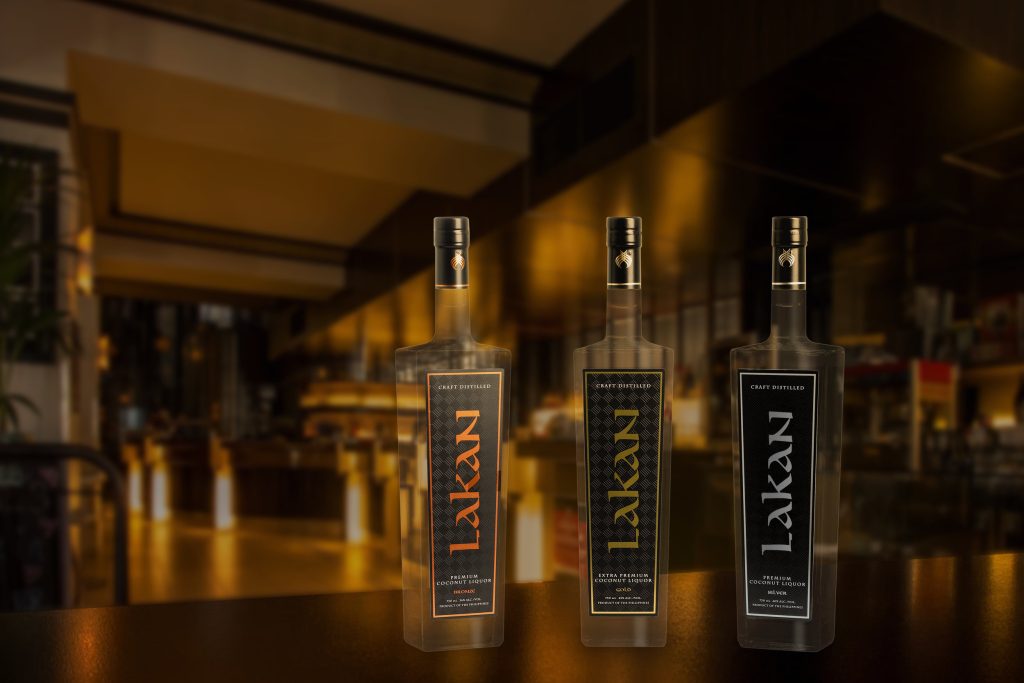 Philippine Craft Distillers, Inc. (PCDI) is a corporation duly registered with the Securities and Exchange Commission of the Philippines. PCDI was incorporated on 24 May 2013 [1] and is authorized to engage in the distilling, bottling, wholesale and retail of liquor and spirits.
The incorporators of PCDI are Anthony C. Manguiat, Jocelyn S. Lim, Jose Z. Osias, Jennifer Joan O. Manguiat and Adolfo II Z. Reyes. The initiators of PCDI are coconut farm owners and tillers with varied backgrounds in business, public service and law. The founders of PCDI are all entrepreneurs committed to drive the coconut farming industry to higher levels of productivity.
On 10 December 2013, the Food and Drug Administration of the Philippines licensed PCDI as a liquor manufacturer and issued License to Operate No. CFRR-RIV-FM-3169.
After a decade of product research and development, the prime movers of PCDI created Lakan – Extra Premium Lambanog. A liquor unique to the islands of the Philippines, Lakan is handcrafted by PCDI using a proprietary multi-stage distillation process developed by the company. The trademark of Lakan is registered with the Intellectual Property Office of the Philippines.
Lakan was conferred Gold Awards by the Monde Selection International Quality Institute during the 53rd and 55th World Selection of Spirits & Liqueurs for the years 2015 and 2017. The Monde Selection International Quality Institute was founded in 1961 in Brussels, the capital of Europe, and evaluates spirits and liqueurs of over 80 participant-countries world-wide in collaboration with world renowned oenologists, master sommeliers, university lecturers and professional tasters.
On 2016 the New York World Wine and Spirits Competition awarded Lakan – Extra Premium Lambanog a Silver Medal. Associated with the Triple Crown of Competitions ( The San Francisco International Wine Competition and The San Francisco World Spirits Competition), the New York competition exacts a standard of competence that demonstrates the overall quality of a brand and establishes a clear cut method by which wine and spirit brands can be ranked by the experts in the industry.
The distillery of PCDI is situated in Bo. Bulaklakan, Lipa City, Batangas, Philippines. PCDI harvests coconut nectar from plantations located in the provinces of Batangas, Laguna, Quezon and Marinduque. PCDI holds office at U2518 Parkway Corporate Center, Commerce Ave. Corner Parkway Drive, Filinvest City, Alabang, Muntinlupa, Metro Manila, Philippines. Telephone No. (+632 ) 556-9788. Mobile nos. +63 998-9637048 ; +63 910-7421750.
The authorized importer of Lakan – Extra Premium Lambanog for the United States of America is Linked Synergies LLC with office address at 26 Broadway, 8th Flr. New York, NY 10004. Telephone No.+1(646) 591-1109. Lakan – Extra Premium Lambanog was issued Registration Number: 18253234698 by the U.S. Food and Drug Administration and TTB ID 16218001000112 by the Alcohol and Tobacco Tax and Trade Bureau.
_______________________________
[1] PCDI amended its corporate name on 21 April 2014.
Contact No.: (043) 774-5422
E-mail:
krc@philippinedistillers.com
acm@philippinedistillers.com
dondizon@philippinedistillers.com